Good Staff and Good Event Recognition Scheme
The 3rd "Good Staff and Good Event Recognition Scheme"
Committed to promote organization's core values, our Society had launched its 3rd "Good Staff and Good Event Recognition Scheme" at the end of 2011. Through recognizing the good events that our staff carried out to realize the core values, the Scheme aims to integrate the organization's recognition culture into daily routines and boost staff morale as well as their sense of belonging.
Like in the past, awards are set up based on the five core values including Care and Respect Award, Professional Spirit Award, Synergy Award, Pro-activeness Award, Continuous Improvement Award and the Highest Honour Award. Nominations were invited from all service units. Initial adjudication was performed by our Council members, Dr Kenneth Sin and Dr Joseph Kwok, followed by voting from all staff to select the winners for the respective awards. Below are sharings from our award winners: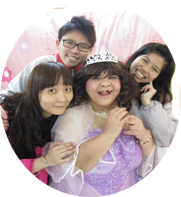 Care and Respect Award Champion – Lok Wah Adult Training Centre
I see a group of angels amidst rain and storm
Who doesn't long for a healthy body? Persons with intellectual disabilities are no exception. During the summer of 2011, a service user of our Centre, Ella (pseudonym) was diagnosed of breast cancer. Despite the many twists and turns during the process of body check, waiting for reports and rehearsing for treatment, our staff, endowed with a great respect for life, were neither discouraged nor terrified. With immense love and patience and a positive attitude, they stood by Ella in her battle to fight her illness.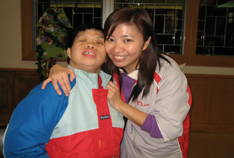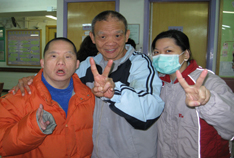 Professional Spirit Award Champion cum Highest Honour Award – Hong Yung Services Limited
Tin Yuet Estate Senior Housing Cleaning Team – Sunflower in the City of Sadness
Beating other contestants, the winning of both the "Professional Spirit Award" and the "Highest Honour Award" by Hong Yung Services Limited (Hong Yung) was indeed icing on the cake. Not only are these Awards a booster for this group of inconspicuous cleaning women, the "Sunflowers", but also a recognition of their positive work attitude, strong sense of responsibility and perseverance. We wish this group of "Sunflowers" who never demand returns to continue shining and working for the goals of vocational rehabilitation and social inclusion for persons with disabilities, to passing on Hong Yung's ideals.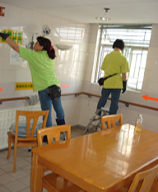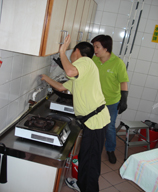 Synergy Award Champion – Kit Hong Home
We are one family
To arouse members of all our service units' concern and their support for the Society's activities, as well as enhancing the communication and relationship between service users and their buddies, the "Support for 2007-08 Fu Hong Fundraising Activities" was launched alongside our Society's fundraising efforts. The impact of the event was far-reaching which ignited the idea of "We are one family". In order to gather support for the Society's activities, the involvement of every member in the service units is essential. In the long run, walkathons will be organized by our Homes and Hostels to coincide with the Society's call for support.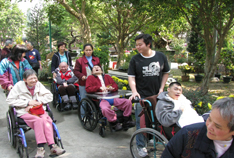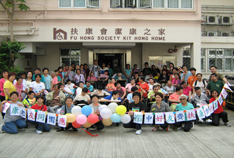 Pro-activeness Award Champion – Yuet Kwan Home
Active and enthusiastic – Chris Lee
Our society values cost-effectiveness, returns and rewards serve as the yardstick for success and failure while the "pursuit of ideal" turns into a luxury. There are however some who, with great enthusiasm, are willing to shine and contribute in their positions, our Warden Mr. Chris Lee is one of them. Mr. Lee joined rehabilitation services 14 years ago, with a positive and progressive mind, he has assisted many service users to achieve breakthroughs, overcome difficulties and walk out of deadlock. He has even organized a football team for service users with limited resources. Mr. Lee's adherence to his beliefs has encouraged every team member, and thanks to his spirit of never mind about paying and never ask for returns, the football team is able to keep achieving its goals on the fields under his leadership.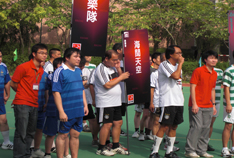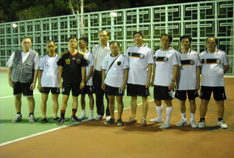 Continuous Improvement Award Champion – Father Tapella Home
Quality Catering Scheme
Since 2005, our hostels have adopted the 5-S practice for environmental safety management that effectively controls food stock and storage. In 2008, our staff received training on "medicine diet" which enables them to provide new kinds of diet menu for residents.

In 2009, our hostels formally introduced the ISO22000 food safety management system standards which help monitor the different steps in the food supply chain. Furthermore, a "Food Safety Management Manual" was developed to supply safety guidelines on the procedures of food production for our staff.

In response to the ageing needs of our residents, not only is it essential to provide a balanced and healthy diet for our residents, but the size of the food is also standardized according to the "Food Safety Management" in order to prevent swallowing problems.

Since the launch of the Scheme, a safe and healthy diet has clearly improved the gastrointestinal problems of our service users. Looking forward, we will continue striving to offer a quality and safe diet for them.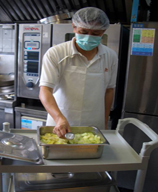 The 2nd "Good Staff and Good Event Recognition Scheme"
The 2nd "Good Staff and Good Event Recognition Scheme" was launched by our Society in 2009. Through recognizing the good practices of our staff in realizing the "core values", the Scheme aims to incorporate the Society's recognition culture into the daily routines of staff, to boost staff morale and their sense of belonging. Based on the five core values of our Society, this year's awards include the Care and Respect Award, Professional Spirit Award, Synergy Award, Pro-Activeness Award, Continuous Improvement Award as well as the highest award "Core Values Award". Nominations for the awards were invited from all service units, followed by adjudication of the parent representatives and voting by all staff. Below are the list of winners, respective awardee briefs and sharing from our awardees: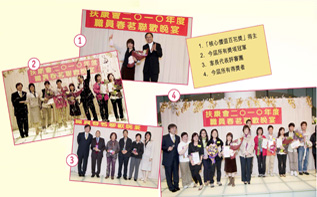 Care and Respect Award cum Core Value Award - Chan Fong Heng (Priscilla's Home)
Chan Fong Heng, also known as Sister Heng, works as care assistant at the Priscilla's Home. For eight years, Sister Heng has treated every service user with great care and respect. No matter in good or rainy days, she would go visit service users who have been admitted to the hospital; she would wait at the side of those whose lives have come near the end, preparing clothes and food for them, cleaning their bodies and giving them the dignity they deserve. Sister Heng also cares a great deal about her colleagues, treating the younger workers as her children and looking upon the Home as her second home. Her dedication has greatly strengthened other workers' sense of belonging as well.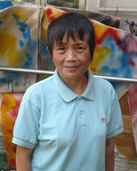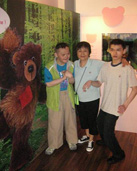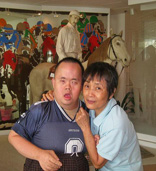 Professional Spirit Award – Chu Mi Ling (Kit Hong Home)
Having served at Fu Hong Society for 28 years, Ms Chu has dedicated herself to the service and kept her promise: to stand by "you". Being the service unit manager of Kit Hong Home, she tries her best to turn Kit Hong Home into a real Home for the persons with severe disabilities, to enable them to go out on the street, going to the movies, enjoying karaoke and travelling as ordinary people do, which enrich their lives and offer them the warmth of a family. Ms Chu also cares a great deal about service users' family members because she understands their difficulties and pressures which are much larger than other parents. Under her leadership, staff will treat family members as friends, often share their joys and sorrows, and encourage mutual help and collaboration among parents. Ms Chu gives a lot of freedom to her staff, encourages their self-development and free expression of opinion. With Ms Chu's unfailing support, Kit Hong Home's "One Person One Dream" Programme won the champion of last year's "Good Staff Good Event Recognition Scheme". Her promise to stand by "you" is what makes Kit Hong Home a real home and her team a united team.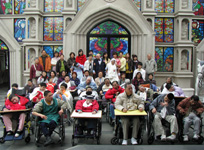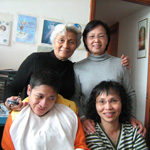 Professional Spirit Award – Chu Mi Ling (Kit Hong Home)
Kenny is the ward attendant and works as a teaching assistant for the Autism Group at the Centre. He assists the instructor to carry out group activities and training in an effective manner; and also shows great care to the service users. He would not get angry even when someone played temper tantrum and kicked at him, but offered his guidance with patience in return. During lunch time, he would throw balls with service users or play the guitar and have fun with them. A kind-hearted and gentle guy, Kenny often gives his opinion in a polite way. For example, when our Centre decided to implement the 5S, he would offer his advice in such a way that others are fond to accept although he is not one of the group members. He would never hesitate to help when others are in need because he sees unity and harmony of the team as his goal. He works wonder with the synergy formula of "one plus one is greater than two", realizing the free spirit of dandelion.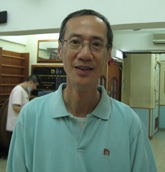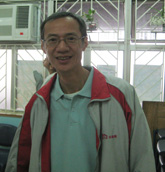 Pro-activeness Award – Leung Kin Sing (Rehabilitation Centre Si Lok Adult Training Centre)
Having been serving at the Centre for near 12 years, Leung Kin Shing (Siu Shing) has dedicated himself to care for the service users. In recent years, the gradual ageing of the service users has caused their physical conditions to deteriorate and some of them need to be in and out of the hospital quite often. Siu Shing would take time to go visit them after work to show his support and concern. If the service users have religion, he would contact and accompany the hospital chaplain to visit and pray for them. Moreover, Siu Shing will proactively realize agency policy such as conducting life experience interactive training to broaden service users' life experience. He would help service users buy discount concert tickets, like the concerts of Paula Tsui, Twins, Jacky Cheung and "Neighbours", and bring them to the Coliseum where audience could experience the concert's audio-visual effects in person. Apart from dining and entertainment, Siu Shing would also encourage service users to take part in the "30 -Hour Famine", Cedar Fund "Barefoot Walk" as well as volunteer service, through which service users could contribute to the society and experience hunger and poverty. Siu Shing does not mind "walking one step further" to treat service users with enthusiasm and sincerity, an admirable example that deserves our modeling.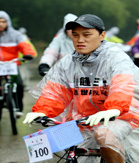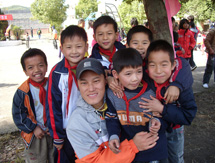 Continuous Improvement Award – Kwok Heung Ming (Tin Yiu Home)
Mr Kwok has worked at Fu Hong Society for 13 years, from a welfare worker at Tin Yiu Home at the time of his graduation to become the warden in March 2009. During his early years, Mr Kwok was almost ignorant of rehabilitation service and experienced difficulties in communication and cooperation with other colleagues. He had even thought of quitting when encountered failures; nevertheless, he kept improving himself and was bold to ask and update himself. He learned how to face adversities with a positive attitude and perseverance, and tried to find his way out. Throughout the last 13 years, he never stops to study and upgrade himself, such as completing the "Certificate Course in Rehabilitation Service" and "Workshop on Trauma Therapy". Apart from acquiring knowledge on related areas, he has also exchanged with others on practical experiences. From a freshmen at graduation, Mr Kwok has turned into a mature, full of self-confidence, responsible and trustworthy supervisor. His diligence at work, good sense of responsibility, bright and open personality has exerted great influence on others, and his courage to accept change and pursue perfection make him look like sunflower blooming under the bright sky, which keeps adapting itself to get more sunlight for growth and development!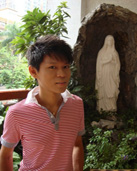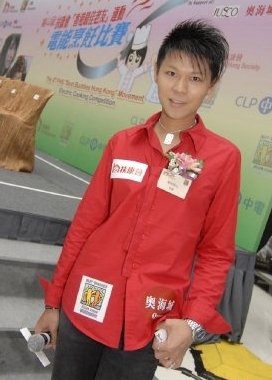 -- Back to Top --